REALTIME Informations - XV9DXB

22.01.2020
QRT - BACK IN HB,
thanks for supporting
18.01.2020 - 03:40 Z
LAST QRV this month - 18.01.2020 to 21.01.2020 ,
with minimal equipment, 60 watts, 20m, SSB and CW
04.11.2019 - 12:42 UTC
CQWW contest CW XV9DXB is QRV, also bevore and after
Update: 22.10.2019-13:15 UTC
I had QSOs this evening, but the QRN is over S9 at the moment ...
05.10.2019:
If I manage to put the 20m Vee inverted on the roof (little space and no access to the roof), I am on 40 and 15m QRV from the 17th to the 27th of October.
26.09.2019 - XV9DXB is QRV 20m - from 02.10.2019 for 1 week
18.09.2019 - XV9DXB is inactive (off AIR) after a travel-breakdown ...
_______________________________________________________________________
14.08.2019 18:12U Ich muss jetzt meine Koffer packen und alles abbauen, ab 15. Oktober sind wir dann wieder QRV
11.08.2019 Heute Nacht 0:45 Ortzeit, 17:45U, hat sich die Himmelspforte für 10 Minuten geöffnet.
IY3A mit reellen 599 auf 20m.
RBN-Spots:
F6IIT XV9DXB 14023.7 CW CQ 13 dB 1758z 11 Aug
EA5WU XV9DXB 14023.5 CW CQ 6 dB 1757z 11 Aug
F5RRS XV9DXB 14023.7 CW CQ 9 dB 1756z 11 Aug
IK7JWY XV9DXB 14023.7 CW CQ 13 dB 1756z 11 Aug
OL7M XV9DXB 14023.6 CW CQ 18 dB 1755z 11 Aug
DR4W XV9DXB 14023.5 CW CQ 20 dB 1755z 11 Aug
02.08.2019 Heute gegen 09:00U - erstes CW-Pileup. Musste leider nach wenigen Minuten abgebrochen werden, da die Betonpumpe von nebenan stärker war - die letzten 2 Stationen waren fast nicht mehr zu arbeiten.
3W-DX - Mailadress (I check this only all 7 days) // only for problems with QSL, technical, frequency's ... over hb9dxb-mail not a correspondence can be made tnx & vy 73
xv9dxb (^) nethosting.ch ( (^) = @)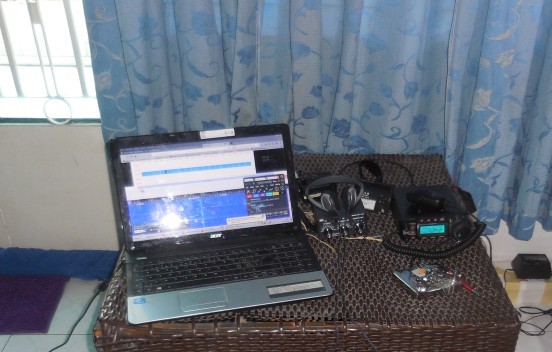 10.06.2019, 06:00 UTC / The mast is there, great guy (boatbuilder). Stainless steel, screwed, damn much weight
02.06.2019, 01:00 UTC / ARRIVED am Zielpunkt, das Hostel wurde an neuen Pächter übergeben (nach meiner Buchung) und hat jetzt einen anderen Namen - shit happens - provisorisch für 3 Tage eingecheckt, ohne möglichen Antennenstandort / UTC 03:00
01.06.2019, 03:00 UTC / mit Verspätung soeben in Saigon (HCMC) gelandet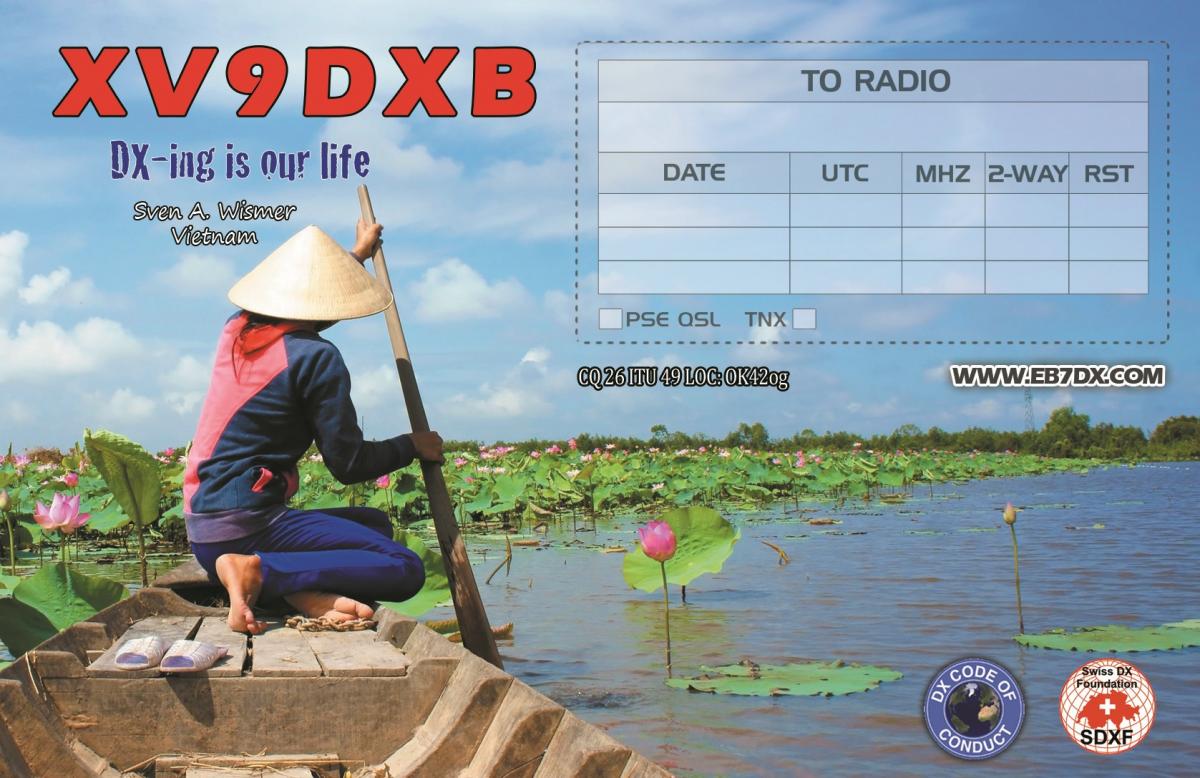 _________________________________________
QTH: Nha Trang / Loc. OK42OG
Callsign: XV9DXB
Operator: Sven
Dates: 02-09 October 2019 and more
Rig: FT 857D
Power: 50-100 Watts
Antennas: 2 monobander vee inverted 20/40
Bands: 20m (40m)
Modes: CW (SSB)
QSL: over EB7DX
_________________________________________
Website: https://xv9dxb.nethosting.ch
_________________________________________